Unique, beautiful, and super creative...
Our Hexagon Touch Light is a touch sensitive wall light that lets you create any design using hexagonal magnetic tiles.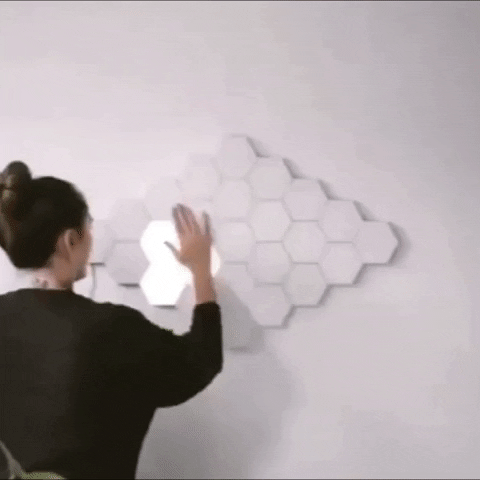 It's a versatile lighting solution that adds excitement and fun to any room in your home or workspace.
Create beautiful and impressive designs that are personal to your environment.
Connect the tiles together using the magnetic edges and turn your wall into a work of art.
Wherever it's placed, our Hexagon Touch Light provides a functional and aesthetic diffused light source with a tactile experience.
There's no limit to the possibilities!
Here's how it works...
All of the LED tiles are held together by magnets. Which mean you can pull them apart and rearrange them any way you want. You can have your lights on the wall and functional within minutes.



Adjustable brightness.

 

Need a little more or less light? You got it. Turn the tiles on and off individually so you get the brightness level you're looking for.
Touch sensor.

 

Each tile has a proximity sensor which detects the distance of your body, as you come into contact with the tile. Just touch the lights with any part of your body to turn them on or off. 
Eco-friendly.

 

They don't suck up a lot of power, so they won't hurt the environment. Use them without feeling guilty.
Sticky pads or nails.

 

Take your pick how you want to hang them, we give you both options. Holes are ready to go in the back of the lights, and sticky pads are included.
How do the tiles attach to the wall❓
The hexagon tiles can be attached to the wall by either using the sticky pads provided or using the holes on the back of each tile to hook onto nails. We include instructions on how to set them up, it's a breeze!
Do I have to mount every tile❓
No! You only need to mount the power tile, the rest of the tiles snap into place. This allows you to easily move and change your design however you like.
What is the color temperature of the light❓
The lighting temperature of the LED illumination is 3200k.
How many lumens per tile❓
Each tile produces 80 lumens.
How do they turn on/off❓
Each tile has a proximity sensor which detects the distance of your body, as you come into contact with the tile it will toggle on/off. You can use any body part or other conductive materials!
How many tiles can be attached to one power supply❓
We suggest a maximum amount of 20 tiles run off of one power supply.
How are the tiles powered❓
Each tile connects via magnetic edges, the power transfers through each tile through metal pins protruding from each edge. (They are not battery powered)
How do the multicolored tiles work❓
Tile colors are pre-set and you can mix, match and rearrange however you like.
Can I put them anywhere in my home❓
The tiles can be put most places in the home. If you are wanting to place the tiles on the ceiling then we recommend using a strong attachment method (and make sure you can still reach them)
Delivery time: 5 - 15 days
*The delivery time varies depending on the order volume
Over 1,569,435 Successfully Shipped Orders.
We made as many happy customers as many orders we shipped. You simply have to join our big family.